Tropical Fusions
– all 4 panels together – as a united whole.
The original artwork was an experimental art 'potpourri' involving techniques of drawing, collage, opaque and transparent glazing (painting), layering and then even more overlaying, cutting and dividing.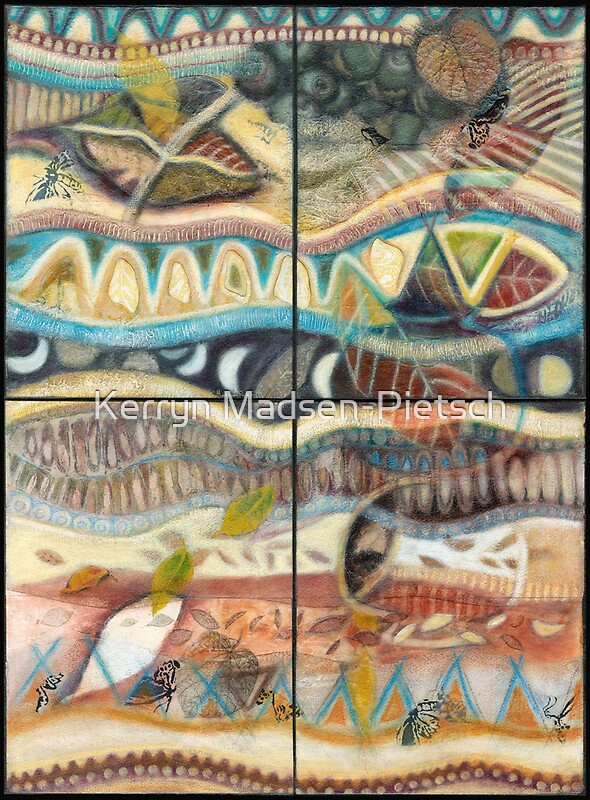 Tropical Fusions (Panels x 4)
Mixed-media used
:
pencils – graphite, charcoal, pastel, oil, coloured; soft pastels, impasto gel (acrylic medium), netting, papers – rice, cartridge; natural processed fibres – bagasse (the crushed sugar cane fibre stems); water-based screen-print ink.
Initial work support: 300gsm Arches rag paper – original sheet size 770 × 570 mm – which was divided into quarters toward final completion, then mounted onto four separate canvas panels with a slim green/charcoal/ black edging finish (each size 385 × 285 mm) and grouped/framed as a whole unit.
Inspired by nature.
For the Group Exhibition: Cross Currents, 2002, Sugarama Gallery, Mourilyan, QLD.
Also exhibited: 2002-03, Year of the Outback DPI Flying Arts; (Work was selected for the Flying Arts TOURING Exhibition Regional QLD.)
In the artist's collection.
KMP©2002, ©2004, ©2014.
Overall compositional imagery was inspired/influenced from nature drawing/painting studies direct from my local surrounding Far North Queensland tropical environment such as the capturing of:
undulating strata layers, rhythms and patterns from the telling timeline surfaces of palm tree trunks
Leaves – both actual and implied: of leaf fall, Native Hibiscus Tiliaceus (cottonwood) dried leaves plus others
Palm seeds
Butterflies and wings – both actual and implied: of the Cairns Birdwing and other
Seasonal atmospheric elements and Moon cycles
Earthy oxide palettes – of red iron, Indian red, yellow ochre, white, terra-verte, charcoal and blue – of soils, sands, sky, barks, plants, leaves etc.
Vessel shapes based on my own fibre receptacle forms
Symbology plays an overall important role in the total work.
Thanks for visiting.