My
first
blog for the New Year 2013 and my
first
published 2013 photographic image
'Wild Rainbow Lorikeets Feeding ~ Innisfail, FNQ, AU.' which
originates from my
first
2013 photographic shoot session with some new photographic equipment attained through the disguise of that dear generous mythical, magical creature called 'Santa'! 8 )
The FNQ landscape has been pretty much sun parched, greens turning yellowish-brown shades, well up until Christmas Eve when Innisfail finally received a first decent rainfall in months, all of 50mm. It is a somewhat very mild and slow beginning to our Wet Season which is, by the way, a very welcome change when compared to the dramatic heavy rains and floods experienced in previous December periods ('big wet' example image
here
).
So even though the tropical heat and humidity prevails at this time of year, we have been enjoying, since Christmas and the New Year, some continual light and moderate showery, often early morning, rains and cooling south-easterly winds and breezes ~ all gratefully received.

Nature and the tropical landscape have been considerably revived. All is indeed looking refreshed with the greens vibrant once more. The growth rate in plants and grass usually soar to new heights during this intense time of year, while I myself try to stay cool and skin dry as much as I possibly can with ceiling or pedestal fans close by! The unpleasantness of Prickly heat, fungal and skin rashes are best to be avoided with all due care taken. The best time for me to photograph 'outside' is either early morn or late afternoon and even then, more often than not, I'll end up with clothes soaked in perspiration and itchy from mozzie bites depending on the (lack of) breeze and location.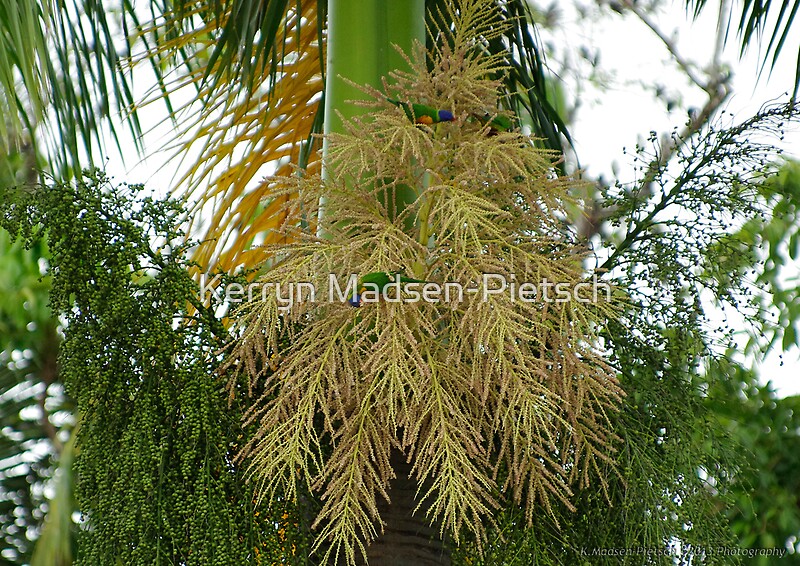 'Wild Rainbow Lorikeets Feeding ~ Innisfail, FNQ, AU.

'


by Kerryn Madsen-Pietsch ©2013 Photography
About the image.
In slightly windy conditions some wild Rainbow Lorikeets were spotted (through the lens) clinging to and feeding from the very large pendular inflorescence on a well established Alexandra palm tree (Archontophoenix alexandrae).
Location ~ Innisfail, tropical Far North Queensland, Australia.
Photo Shoot Date ~ Jan.04, 2013. Time - 18:14:11
*An 'inflorescence' is a cluster of flowers on one or a series of branches, which together make a large showy blossom.
©Kerryn Madsen-Pietsch Fine-Art and Photographic Images
Select from

a range of print formats made available