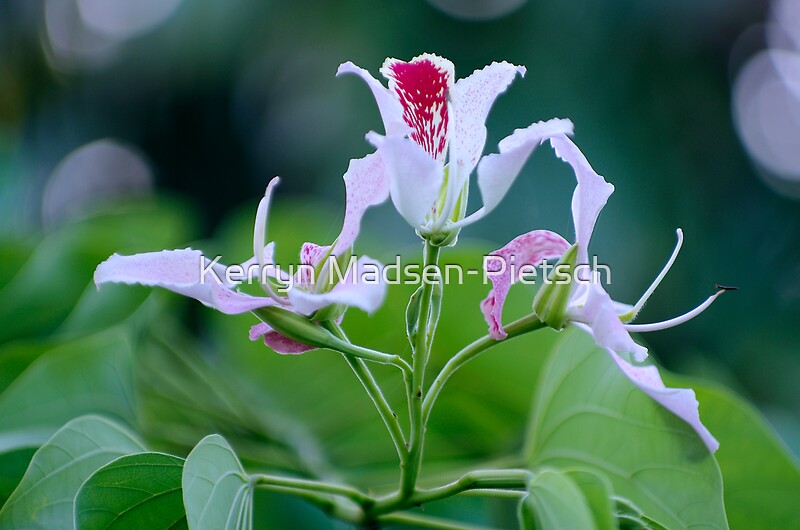 I am finally seeing a sparse one or two isolated cluster groups of these lovely pink orchid tree (Dwarf Bauhinia monandra) flowers blossoming in our rural home garden, near Innisfail, Far North Queensland, Australia.
Butterfly-like
Every cluster appears unique in composition
The Dwarf Bauhinia Monandra flowers open first as red/rose with yellow tips
then quickly change to a very sweet pink, then hold the pink
A rare variety ~ develops pink orchid-like flowers with red blotches or dots, the uppermost one splotched with deeper red, yellow or yellow-margined
The petals are spreading, each about 2.5 – 4 cm long
Small, rounded-crowned tree with smooth gray bark.
Twin lobed leaves which are 4 to 6 inches across and cleft almost to the middle, giving the leaf the shape of a hoof print.
Native of Burma
Since the recent late wet season's few days of heavy rainfall (delivered by Ex Tropical Cyclone Oswald last week in January) a couple more have bloomed, but they are only still appearing in very limited quantities. Perhaps our tropical soil is not acidic enough but the tree plants are still relatively young!
I am observing their progress with keen interest.
Camera/Shoot Details
Handheld Pentax K-5 II s Lens DA* 50-135
1/100s@ f/2.8, ISO 200, FL.135mm
Date – Jan.13, 2013 Time – 18.04.11
Raw file ~ Processed/edited via CS2.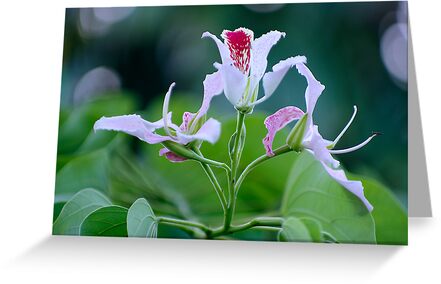 Image ~

'Bauhinia Monandra (Pink Orchid Tree) Flower Cluster'
by Kerryn Madsen

-Pietsch ©2013 Photography
Fine Art and Photographic Prints


available

at my RedBubble Gallery